Fire TV Stick 4K with Alexa Voice Remote, Streaming Media Player
Is it Worth Upgrading to the New Fire TV Stick 4K?
I got my first Fire TV Stick in March 2018 (not the 4K), here's my review on the new 4K. My TV is a 4K Samsung, so I was excited to see that Amazon was going to support the 4K on the Fire TV Stick. I did have 2 movies in my Amazon library that were 4K. The detail and crispness of the picture are really amazing. When the new 4K Fire Stick came out I had to give it a try, and received my 4k Fire Stick in May 2019. Generally I use the product for at least 6 months before writing a review, but in this case I made an exception.
What is 4K and Do I Need It?
4K or Ultra HD as it is also called is a higher resolution picture. If you compare a HD TV to a 4k TV you have 4 times as many pixels. For an example if you have a 60″ TV in HD, a 4K 60″ TV will have 4 times the amount of pixels in the same space. This means you can get a clearer and more detailed picture. It's called 4K because the dimensions of the picture are 4,096 (4K) by 2,160. Regular HD TV's are 1,920 (2K) by 1080.
We get commissions for purchases made through links in this post.  Terms and Conditions.
$49.99
in stock
1 new from $49.99
as of September 19, 2020 10:25 am
Amazon.com
Free shipping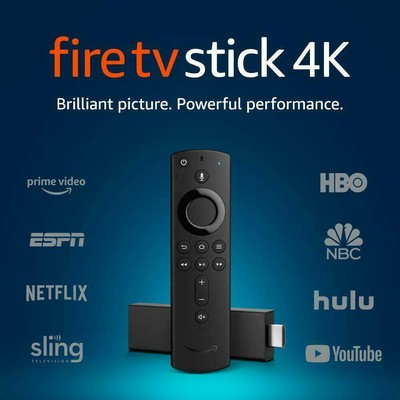 Ebay.com
How is it Better than Second Generation Fire TV Stick?
My first Fire TV Stick was a second generation (not the original release). The remote was simple, which was one of the big reasons I liked it. The original had 6 buttons and a directional control for up, down and side to side and a voice button. The new remote is pictured below has added power, volume and mute. Today so many remotes come with dozens of buttons which for the most part we rarely use, it was nice to see something functional and easy to use. Even in the dark I can figure out where the buttons are.
The Fire Stick 4K figured out what my TV was and how to control it without any help from me. During the setup it asked me to try to adjust the volume, it worked. That's all there was to getting it setup to work with my TV. Depending on your TV and components it might take a bit more to configure your setup.
Faster Processor
One of the main differences is that it has a faster processor. Just like on a computer or phone, the faster the processor, the more it can do. Remember that there are 4 times as many pixels in 4K, that means more work to decode and display a more detailed picture. Pretty simple, the processor is faster so it can do more work in a shorter amount of time.
That's the tech side but, is it noticeable? Yes and by quite a bit, everything is faster. Menus, scrolling, all faster and smoother with the new 4K. You won't need a stop watch to tell the difference.
The Skinny on WiFi
Amazons claims that the new 4K has a better WiFi. This a bit more subjective. There are so many things that can affect WiFi. The amount of WiFi's that are in range for example. I live in a building with 50 apartments. WiFi's everywhere. I was unable to really tell the difference between the 4K and the older model. I suspect that they have done some improvements, but I don't think it was a gigantic leap forward.
Can I Connect it with an Ethernet Cable to the Internet?
If you want to connect it directly to your router with an ethernet cable, you should. In my case, my router is in the same location as my TV. You will need an ethernet connector from Amazon. It generally runs about $15, although price may vary. Plug your ethernet cable into the ethernet adapter and the other end goes into your router. You don't have to fuss with WiFi settings, passwords…. Also in my case I don't have to worry about interference from other WiFi's in my building. The power connector goes into the ethernet adapter and the adapter plugs into the power connector in the Fire Stick.
 Can I Use to Control My Bluetooth Speakers?
Probably. There are so many manufacturers of speakers and TV's it may not work. It has been designed so that it works with your TV to control the speakers, but your setup may not be supported. The only way to know for sure is to give it a try. One nice thing about Amazon they make returns easy, keep all your packaging until you're sure you want to keep it.
Voice Search
The mic button on the top of the remote allows you to use your remote to talk to the Fire Stick.
MonkeyFAQs Hack: You have to hold the button down the entire time you are talking. Not intuitive at first. If you push and release it stops listening when you release the button. It is not ON and listening like a regular Alexa device.
On the screen you will see a blueish line at the top, like Alexa devices, when it's listening to you.
Side Note: When I purchase videos from Amazon, I usually get the extended version or directors cut if its available. When you voice search it will normally show you the theatrical release first unless you ask for the extended version. When just searching by name it won't put the video version that you already own first. I always check the other versions to make sure I don't own one of those before buying it. It would be a nice feature to show you the version that you own first, hopefully this will change in the future.
I Don't Have Alexa, Will it Still Work?
This had me in total confusion at first, I held the mic button on the top and said "Alexa, Star Wars Movies". I got an error message, Alexa device not found. What? Apparently when it first came out if you didn't have an Alexa device setup and working and linked, you would get an error. Now even though I don't have an Alexa device it works anyway.
If you have an Alexa device it's a no brainer, the 4K Fire Stick just makes everything easier to use.
How Do I get 4K Resolution on my HD TV?
The short answer is if you have an HD TV (2K), you can't get 4K. Just like when we switched from DVD's to Bluray, you have to have all items in 4K for this to work.
You will need a 4K TV. Current estimates are that over half of US households will have a 4K TV in 2019.
A 4K streaming device like the Fire Stick 4K or another companies device.
Internet download speed, a minimum of 25 Mbps. There is something you need to understand here. If you have a 25 Mbps internet connection and your sharing it with other TV's, phones, computers, tablets…. you need 25 Mbps FREE. If you have lots of people on the internet though your connection, you will have problems. You only need 5 Mbps minimum for HD.
If you're connected over WiFi, you need 25 Mbps free on WiFi as well. If you have a really low connection speed on your WiFi because of location or other interference you will not get the 4K resolution. Connect with an ethernet cable to remove this requirement.
You have to have the 4K version of the movie or show you want watch.
What happens if I don't have the a High Speed Internet Connection?
Most streaming services will "downgrade" your movie and show you the HD version instead. If you have connection problems with video streaming you've probably noticed that sometimes the picture is not as sharp. This is the service downgrading the stream so that it will continue playing. If it's a temporary problem like WiFi interference or someone downloading on your connection, you'll notice the picture improve once the problem stops.
The Interface
I don't want to comment too much on the interface as Amazon can change that at any time. Basically the menu is across the top, use the right or left side of the "ring button" to move the menu. Down or Up on the ring button to move in that direction. The center of the ring button is the select button.
Like a phone you can download apps for HBO, Netflix, YouTube, TV Networks, News …. Most of the apps are free to download but you may have to pay to watch the content. Some apps will allow you a limited selection for free but want you to pay to get the full content. One of the nice features, for example, is you can pay for a HBO subscription through your Amazon account. Many apps will offer free trials, and you don't need to create an account, it's all handled by Amazon. Pretty slick, just make sure you remember to cancel it if you don't want to be charged.
Screen Casting
This is a big deal for many people. Simply, casting is taking the image and sound from your phone or tablet sending it to your TV to play. This was built into the original Fire Stick, but was missing when the 4K version first launched. They have upgraded the 4K (software update, no need to get a new one), and you can now cast from your device. You may need to download an app to make it happen but you can do it even from Apple products. Amazon heard the demands of its customers, and did an update to make it happen. That's a good thing to see. Even a company as big as Amazon should listen to their customers.
Conclusion
Even if you don't have the internet connection speed or a 4K TV it's still worth it in my opinion. It's faster, simple to use, convenient size remote. The voice command are good but there's a lot of room to improve in this area, but they are constantly improving Alexa and voice control. Someday soon we may be able to direct our TV's and computer totally through voice control. We're not there yet, but Amazon is getting better. I've already seen improvements. Because of the low price for the 4K version, I'll give it a strong buy recommendation.
What's the difference between the original firestick and the 4K? (Other than the 4K res).
Answer: All of the improvements mentioned before are true, what I would like to address is the detractor that you can't mirror cast or stream to the Fire TV 4K. After much ado Amazon has finally rectified their ridiculous mistake and added mirror cast / streaming support to the Fire TV 4k. If you do not have this ability be sure to update your device. You can go to settings to find the option but the easiest way is to hold the home key and when the shortcut menu appears choose cast to this device.
How Is This Set Up?
Answer: The Fire stick has a small mini-USB port on the side and the big HDMI connector sticking out in the front. The HDMI connector gets plugged-in to the HDMI port of the TV. The product comes with a mini-USB to USB cable. Connect one of the cable to the Fire Stick and the other end to the power adapter (also included in the product.) Once the Fire TV is powered on, you might have to select the source on the TV to specify which input port the Fire TV is connected to (this is no different than any other input source you would have tried to connect to the TV e.g. a blu ray player) Upon plugging in the Fire TV for the first time the setup process will do the following:
Selecting the language 
Configure Wireless internet's configuration.
Once that is done Fire TV installs and downloads the latest software. Software download did not take much time but the installation took 3 minutes.
Fire TV then sets up the remote to control the TV. It asks you to control the volume of TV using Fire TV's remote.
After that, you can connect the Fire TV to your account. If you purchased the Fire TV from Amazon, then it is already connected to your account.
You can set up parental controls after connecting the Fire TV to your account.
After this, a brief video of Fire TV's features is shown.
After the video interface of Fire TV is shown.
Can this be used on any tv other than a 4k?
Answer: I do not have a smart or 4k tv and it works great.
Can it be hardwired to my router?
Answer: You can buy an Ethernet adapter for $14.99 that will allow you to do that.
Is there a monthly charge for the firestick? Or do you just pay for apps your order on there?
Answer: Stick is one time cost, and apps are free, but what you watch on the internet can cost in monthly subscription fees…. up to you if you watch pay to view or free.
Can someone please define "high" when they say it requires a high speed internet connection? We can only get 10 Mbps where we live.
Answer: High speed or broadband internet as defined by the FCC is 25Mbps download speed. In your case, you would be able to get Amazon Prime/Netflix/Hulu recorded content without buffering. Speeds at 5Mbps will work. When it comes to live content such as sports or cable networks on DirecTV Now and Hulu Live, then 15 Mbps is where you need to be for full HD without buffering. You can use Fast.com to see if you are getting the speed you are paying for.
Do you need amazon prime to have a firestick?
Answer: You do not need amazon prime., however being an amazon prime member does open many opportunites to movie viewing. I just disconnected my cable. Honestly I mostly watch movies not on the cable channels. Was tired of wasting money on premium channels and over 400 channels of which I only watched 1 maybe 2 channels. Now am saving $125 per month and still watch most movies offered through prime membership. If you are not a prime member and have Netflix you have access to that as well since Fire stick works only through your WiFi. It was recommended to me by coworkers and I love it.
What are the benefits of the fire stick? would I need a subscription to HBO to watch it on the fire stick?
Answer: Yes, you still need subscriptions to all the premium movie and TV sites… Fire Stick is only the hardware that gets your Non Smart TV onto the Internet. Lots of free movies and TV however…
When the batteries die and I replaced them in the remote, the remote dies not work.
Answer: The remote is Bluetooth, not like regular TV IR remote… you need to pair it with the stick again…. hold the home button down until it connects again. And make sure you put the batteries in facing the same direction, not one up and one down for polarity.
How come I cannot attach the firestick to the tv with the HDMI ports on the left side of the tv?
Answer: I have an LG tv with HDMI ports on the left side and have had no problem attaching the firestick using one of those ports. However, I have used the short HDMI cable that comes with the firestick to do so. The cable provides more flexibility to align and fit the attachment of the firestick. Also, the instructions that come with the fire stick recommends that this cable be used to install the firestick.
To use the fire stick, you must an amazon account?
Answer: If you've ever ordered from Amazon, you already have an Amazon Account. If not, when you order the Fire Stick, you will have to set up an account. That is all that you need. I believe that you can get a 30 day free trial of Amazon Prime. Try it, and see if it would be worth it to keep it. While you have it, make sure you check out ALL of the benefits, including Prime Video, Prime Music, free Kindle books, etc. And by trying it, you will get the Fire Stick shipped to you sooner with no shipping charge. There is also a choice of Prime Video only, for $7.99/month.
Can you download from a regular fire stick to a 4K firestick?
Answer: Are you asking if you can transfer downloaded Apps from older fire stick to newer 4K ? Not stick to stick.. but all apps are in your Amazon account cloud and can be downloaded as needed.  In case you might think movies and shows are saved on the fire stick, no they are not, only the apps that connect you to the various on line streaming.
I have 3 tv sets,1 prime account. If I get 3 sticks, will I be able to use all 3 at the same time with one subscription to netflix, hbo, now, etc?
Answer: You can use subscriptions on any streaming device you have… that includes whatever fire sticks you have. Only restrictions I've see is that some streaming services will like how many can watch the SAME thing at the SAME time… but that varies.
Can I use it without WIFI in my house?
Answer: No, it has to have internet service to work. Although you can use a cable to connect it to your router if you don't want to use WIFI.
Can I use this fire stick even if I have the original fire stick in another room and tv?
Answer: Absolutely! They work independently through your WIFI connection to your router. It's the same as with more than 1 laptop or tablet in your house. They are not restricted to everyone watching or reading the same thing, are they? Same principal applies here.
Does anyone know if the old/original remote (non-voice enabled) works with this new 4K Fire TV Stick?
Answer: No, you can use the old remote as chew toy for your dog – Just kidding, eating electronics is not good for the doggo.
Blazing Fast, Easy to Use
Is it Worth Upgrading to the New Fire TV Stick 4K? Here's What We Found.
PROS
Faster
New-Volume, Power & Mute
Simple Design
Alexa Compatible
Lots of Apps
CONS
Guide Could Be Better
Ethernet Needs Adapter
Voice Search Could Be Better