Sunbeam® King Size XpressHeat™ Heating Pad, Moist Heat Pad, 6 Heat Settings, Auto-Shutoff
I purchased the Sunbeam King Xpress heating pad back in May 2013. After 6 ½ years, it's still going strong. Because I have chronic back problems, I've used this heating pad regularly and found it to be the best heating pad out of the dozens that I've tried over the years. I purchased one for my mother in May 2015, and she is still using hers on an almost daily basis.
Soft, Luxurious Microplush
I love how soft the microplush is on this heating pad. I use it on my back, sitting in a chair all day and laying on the couch or in bed. Even though you can feel the elements inside the pad, I don't notice them when I am lying on it. The soft cover is great if you want to use it directly on your skin.  I generally use a lower heat setting when using directly against my skin.
The Sunbeam King Size XpressHeat Heating Pad comes to two colors: green and red. For some reason, there is sometimes a difference in price between the colors, even though the heating pads are exactly the same.
Integrated Cover
Unlike some pads that have a separate cover, this one is all one piece. That makes cleaning it pretty easy. It is machine washable (disconnect the cord first). Wash in warm on gentle cycle and tumble dry on medium heat. Don't use it until it is completely dry.
Large Size
This is not the largest heating pad I've seen, but it is bigger than many. It fits perfectly on my back, and I'm 6′ so it should fit most people pretty well. If you're extra tall, you'll probably want to find a longer one. It's got enough width to cover most of my back and heats the major muscles. All around, it's the right size for most applications.
Fastest Heating Pad I Could Find
One of the best features of this Sunbeam heating pad is that it heats up very quickly. I can feel it start to heat after about 20 seconds or so, while other pads take much longer to heat up. The pad has 180 watts of heating power, and it can get quite hot on 6. Generally, when I'm lying on the pad or in a chair, I usually have it on 5. If it's on bare skin, 6 is generally too hot for me. According to the specs, it maxes out at 176 degrees (on 6), which is the limit for approval by Underwriters Laboratories.
Moist Heat Pad
To get moist heat on the heating pad, unplug the pad and spritz it with water from a spray bottle. Take care not to get any water in the plug on the pad; this must remain dry. Plug the pad back in and turn it on. When the pad dries out, just unplug it and spray it again. It takes a little experimenting to find the best level of moisture that works for you.
Digital Controller
The controller has six heat settings. I've rarely used the bottom 3. Most of the time, five is my favorite. Sometimes when I have gotten used to the heat I will bump it up to six for a few minutes. The controller has two time settings: auto-off after 2 hours, or continuous. The continuous or manual off means it will stay on until you manually turn it off or unplug it. I've accidentally left it on for a couple of days and had no problems. It also comes with a 9′ long cord, which is a nice feature.
The Dreaded Flashing "F"
On occasion, you will see a flashing "F." This means there is a "fault" and the pad shuts off for safety reasons. Most of the time, it happens when the pad is on, and the connector between the pad and cord has gotten a little loose. Typically when I'm lying on it or in the chair and I move around, it loosens the the connector.
To fix it, first, unplug the heating pad from the wall. Then make sure the connection to the pad is nice and tight. Plug it back into the wall, and it should be back to normal. If not, then you may have another problem and should contact the manufacturer for further troubleshooting or replacement.
Sunbeam® King Size XpressHeat™ Heating Pad Conclusion
This heating pad has all the essential points: soft cover, large size, good choices of temperatures, and it kicks out the heat. This is an easy recommendation to make. I would buy another one without hesitation.
Monkey Notes: In researching this product, I did run across some quality control issues. There have been some issues with the controller getting too hot, and it stops working. In almost all of those reviews, they had just received the pad and had just started using it. I would suggest that you save the box in case you have a problem, that way you can return it without any difficulty. Mine been going for more than 6 years.
$35.89
$39.99
in stock
5 new from $30.99
1 used from $29.93
as of September 19, 2020 12:25 pm
Amazon.com
Free shipping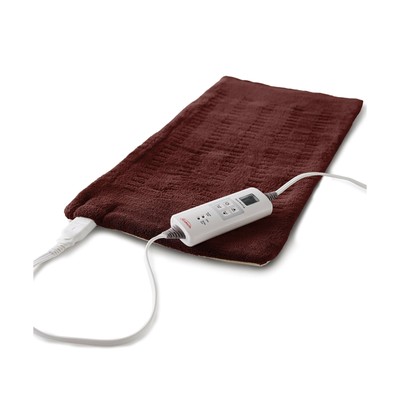 Ebay.com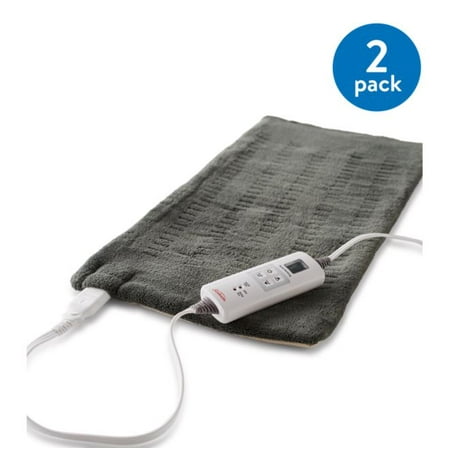 Walmart.com
Pretty Good Heating Pad
This is a simple heating pad that does its job quite well. Mine is currently over 6 years old and still going strong.
PROS
Soft Micro Plush Cover
Large Size
Heats Fast
Moist Heat
Continuous Heat or Auto Off
9' Long Cord
CONS
Haven't Really Found a Con
MonkeyFAQs from around the web:
Can this be used for shoulder arthritis? It seems like it's mostly for back/neck, so just wanted to see if it could also be used for shoulder as well.
Answer: Yes. This is the most flexible heating pad I've ever used. I have arthritis in pretty much every joint (except my knees!) and I love this pad because it's so easy to "wrap" around the sore spots.
Does the cover slip n slide around?? And does the pad insides keep the same shape, no scrunching up ?
Answer: The cover is sewn all the way around the edges. The heating element is stable. I've been using heating pads for over 20 years and this is the best one I have ever had!
Does it keep its shape?
Answer: Absolutely. That's the best feature– that the heating pad is not a plastic insert in a cloth cover. In that type, once it cools the plastic sets into squashed folds that can't be flattened until it is heated. Thin, lightweight, flexible–this pad is always a rectangle that is flat and smooth whether it is hot or cold.
Does this unit maintain a constant heat?
Answer: Yes. My only complaint is that it isn't as large as I expected. It heats very well.
How hot does this get in degrees Fahrenheit?
Answer: On this model, setting number 6 will be the maximum setting. Sunbeam heating pads are engineered to produce heat that will not exceed the Underwriters Laboratory temperature limits (176 degrees F) when used on the High setting.
Can I lean on it?
Answer: Hi: Yes, you can lean on it. I use it almost daily while sitting in my chair. I have it behind my back for at least an hour at a time. The only trouble I have had with it is sometimes the cord pulls out of its socket if I pull on it the wrong way. Not often. It gives you a problem notice, just plug it back in, remove the plug from the outlet and right back in. All solved. You may not have that problem at all with it. I love it, even with that minor problem.
Does it have an auto shut off?
Answer: Yes it does. You have the option of setting it to go to 2 hour auto shut off or setting it for continuous heat where it does not shut off. There is a heat setting for each option that goes up to level 6.
Does the led display have a backlight if the room is dark?
Answer: The dial is lighted all the time and the control temperature numbers are large and easy to see. The heating pad is also a generous size. Hope this helps.
Why Control panel Light is always on? It is supposed to be off, right?
Answer: When the unit is "off" there is one red blinking light that is always blinking to indicate the pad has "turned off" after two hours of operation. Otherwise, while the unit is on, the red link is on but does not blink.
Is it UL listed?
Answer: On the box it states: UL Listed – For household use only.
Is there a removable cover that I can wash?
Answer: No, because the whole thing can go in the wash (except the cord).
What's the difference between the dry heat option and moist heat? Can't I just spray water on the dry heat setting?
Answer: Yes, to use the moist heat unplug the heating pad, then take a spray bottle with water and spritz it with water. Plug the pad back in and you should be good to go. Remember not to get any water in the plug on the pad.
Can you set the turn off feature for more than 2 hours?
Answer: Yes. If you push one button, the heat automatically goes off in 2 hours. If you push another button, the heat automatically stays on continuously (until you push the OFF button). This is one of the few heating pads I have found that allows you to have the "continuous heat" setting on. Thanks for asking….
What kind of warranty is there?
Answer: There is a 5 year limited warranty from the date of purchase. I've only had this heating pad for several months and really like it.
Does this pad contain vinyl?
Answer: I can't say 100% there isn't any inside (if it's a matter of an allergy, you should contact the manufacturer) but it is not one of those crappy vinyl pads wrapped in cloth. The material is 'quilted' all the way through, none of the wrinkling nonsense of the vinyl pads.
Are there coils that can be felt in this heating pad?
Answer: No not really. This is the best heating pad I have had, it's nice and long and real soft. Hope this helps you I am sure you will love it.
Is it still flexible when it is off and cold?
Answer: Yes
Do you recommend this product?
Answer: Yes absolutely! I have a review posted on amazon you can read with the pros and cons-the cons are very minor in my mind! As a heavy user of heating pads (I have a medical disorder that has be using one most of the day and night), I have used many pads, and this is my fave so far. I wore out my first one and purchased two more of these-because I don't feel a need to look for anything better.